Monica Eaton-Cardone's Journey to Success
Monica Eaton-Cardone is an international entrepreneur, speaker, author, and industry thought leader. She boasts a robust and diverse range of skills, abilities, interests, and accomplishments.
Her professional success, though, is derived from her personal attributes. Monica Eaton-Cardone is a dynamic and inspirational leader who values hard work, collaboration, and innovation.

The Early Years: Building a Foundation of Excellence

Monica's determination to succeed began at an early age. Entering the workforce when she was 12-years old, Monica proved that age is just a number as she became one of the company's highest achieving employees.
Monica graduated high school at the age of 16 and maintained two job while working towards a college degree in art and architecture. She sold her first business when she was 19 and has maintained entrepreneurial brilliance ever since.
Over the years, Monica has launched several successful business ventures. She's taught herself the necessary skills and developed the needed technologies with each new endeavor.
Monica's specialized skillset has enabled her to excel in numerous areas.
Threat metrics analysis
Product and technology system development
eCommerce retention
Risk relativity
Agile process design
Monetizing hidden assets has become one of Monica's areas of expertise. She is able to identify voids in the market and create opportunities that are overlooked through traditional sales strategies. Her abilities have helped reduce risk and optimize profitability for companies like Ford Motor Company, Nextel, NatureMade, and MetRx.
Chargebacks911: Addressing Challenges and Leading With Confidence
As an online merchant, Monica rejoiced over her ability to break through barriers and grow her business. However,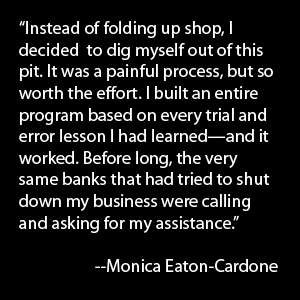 when she was confronted with an unexpected challenge, her business nearly crumbled.
While she could envision a simple, dynamic strategy to solve her payment processing issues, the technology didn't exist. Service providers were not able to supply the solutions she needed.
Identifying a need and determined to persevere through difficulties, Monica set out to create a solution that would solve the previously unmanageable threat. She became a self-taught expert, the only one of her kind in the payments industry, helping fellow merchants in a way no one else could.
Today, Monica's proprietary technologies and solutions remain unrivaled. She's parlayed her self-taught education into three world-renowned businesses. Chargebacks911® has become the industry's leading chargeback remediation firm, while its parent company, Global Risk Technologies delivered Europe's first chargeback management solution. Another subsidiary company, eConsumerServices, provides mediation services between consumers and merchants.
Serving executive roles at all three of her companies, Monica continues to search for ways to better serve her fellow merchants while lobbying for industry-wide standardization.
Noteworthy Contributions and Accomplishments
Using her position as COO of Chargebacks911®, Monica embraced the opportunity to serve her local community. She created a student incentive program, Get Paid for Grades, that provides literacy tutoring services, career-planning lessons, and general life-skill acquisition. Monica's philanthropic efforts provide grants to participating schools and scholarships to enrolled students.
Monica is also noted as a strong voice for women who want to succeed in business at the highest levels of IT enterprise. She advocates for the dreamers, the risk takers and those who experience advancement barriers simply because they are female.
Monica's other volunteer experiences and community involvement include:
Community Learning Center volunteer tutor, president
Make-A-Wish Foundation advisory board member
Pinellas Education Foundation fundraising committee member
Kiwanis volunteer
Awards and accolades for Monica and her business have been numerous:

Monica is a member of various professional organizations, including:
Electronic Retail Association
NACHA – Electronic Payments Association
Women In Technology International
Electronic Transactions Association
St. Petersburg Chamber of Commerce
American Business Women's Association
Clearwater Development Board
Women's Network in Electronic Transactions
Monica Eaton-Cardone: An Enthusiastic and Inspirational Leader
Time and time again, Monica Eaton-Cardone has proved that nothing is impossible if you have the right attitude. She is an inspirational and encouraging leader in both her personal and professional life.