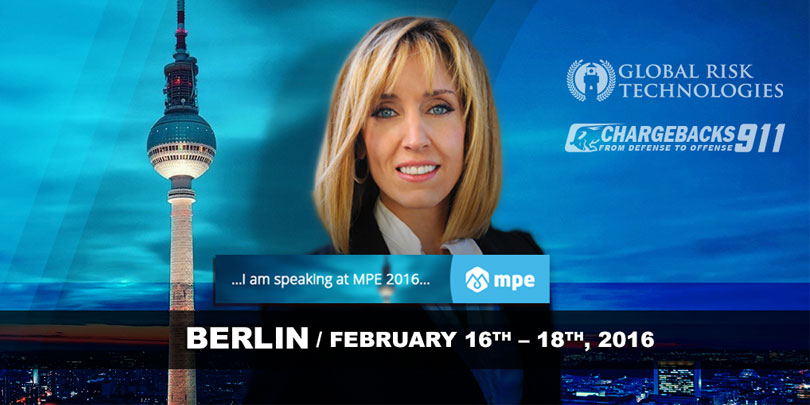 Monica Eaton-Cardone is widely recognized as an expert and a business leader in the fields of payments, IT and merchant services. As such, Monica is regularly invited to speak on these and other topics at industry events.
Next month, Monica will appear as a featured speaker at the 9th annual Merchant Payments Ecosystem in Berlin, a major event in the merchant payments industry.

The MPE, billed as "the top European merchant payment acceptance event," brings together merchants, acquirers, industry experts, processors, regulators and solution providers from across the industry. More than 700 convention attendees hailing from Europe, the US, India, China, South Africa and more will convene at the InterContinental Berlin for the 3-day networking event.
This is no minor industry gathering – some of Monica's fellow speakers include representatives of such prominent global finance entities as Discover Financial Services, IKEA Group, the European Central Bank and Alipay.
In her seminar at the event, Monica will be covering the topics of ecommerce security and risk. Though Monica possesses a depth of knowledge in many different aspects of the IT and ecommerce fields, it is her understanding of friendly fraud loss and chargeback mitigation which sets her apart.
Monica is recognized as the authoritative expert on these aspects of ecommerce. Her understanding of the subject, along with her skilled business leadership continues to push both Chargebacks911™ and Global Risk Technologies™ to the forefront of the fraud prevention industry. Don't miss this chance – remember to catch Monica's seminar!
The Merchant Payments Ecosystem run from February 16-18, 2016. To learn more about the Merchant Payments Ecosystem, click here.
Merchant Payment Ecosystem
February 16, 2016
Intercontinental Berlin Hotel
Berlin, Germany
Monica Eaton-Cardone
February 16, 2016
2:00pm
Event Recap
Over the course of the past three days, the 9th-annual Merchant Payment Ecosystem proved to be everything it was promised and more. Chargebacks911™ coordinated with the company's Dublin-based parent, Global Risk Technologies™, to bring their unparalleled payments industry solutions to this Trans-Atlantic event.
Monica delivered her seminar to a tremendous response. She was one of more than 100 different speakers and panelists, and each industry thought leader contributed something unique and totally original. However, with chargebacks beginning to flood into the European eCommerce market, Monica's insight is vital to merchants and acquirers now more than ever.
Monica would like to give a big thanks to the event organizers—she and the other members of the Chargebacks911™ family had a fantastic time at this event.