Monica, along with the Chargebacks911™ team, are set to host the annual Merchant Bootcamp at the 2015 CNP Expo.
This year's event is expected to trump last year's attendance by more than 40%, attracting more than 1,000 attendees from around the world. You can find Chargebacks911™
representatives all week in the exhibit hall; however, the CNP Expo Merchant Bootcamp convenes on Monday only. Do not miss this totally original educational opportunity.
Monica will not be the only expert voice appearing for Merchant Bootcamp—in fact, she'll collaborate with a host of high-profile industry figures to assemble this program. Her co-presenters include:
Gary Cardone, COO & Co-Founder, Chargebacks911™
Mike Caruana, VP of Business Development, Chargebacks911™
William Lee, VP of National Sales, WorldPay US
John Lees, VP of Merchant Retail, ACI Worldwide
Brian Arnone, Manager of Online Fraud, Universal Orlando
George Soto, Director of Corporate/Global Investigations & Ecommerce, Office Depot
This innovative event will provide merchants with a wealth of information to ensure business sustainability, so don't miss it. Then, remember to stop by the Chargebacks911™ both for supplementary information about revenue retention strategies, or contact meetus@chargebacks911.com to arrange a meeting.
Learn more about the CNP Expo here.
CNP Expo 2015
May 18-21, 2015
Caribe Royale Hotel
Orlando, FL
Merchant Bootcamp
Featuring Monica Eaton-Cardone, Gary Cardone & More
May 18, 2015
2:00pm
Event Recap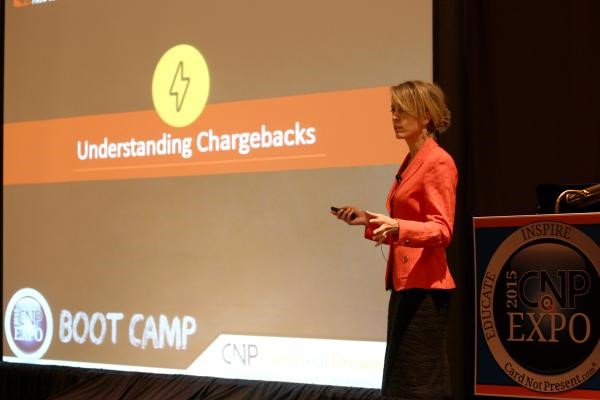 Event organizers promised this year's CNP Expo would be the biggest event yet, and attendees were not disappointed. Chargebacks911™ were proud sponsors of the 2015 CNP Expo, while Monica and Gary both helped present the first-ever Merchant Bootcamp.
The three-hour session was a big success, attracting dozens of early event attendees, and Monica was more than happy to have helped make the event a success. As a former eCommerce merchant herself, Monica's primary goal is to encourage merchant sustainability, and she would like to sincerely thank the CNP Expo organizers for their ongoing support of her mission.
She and the rest of the Chargebacks911™ family had a wonderful experience over the course of this four-day event. We can't wait until CNP Expo 2016!
For more information about CNP Expo 2015 or the Merchant Bootcamp session, click here.