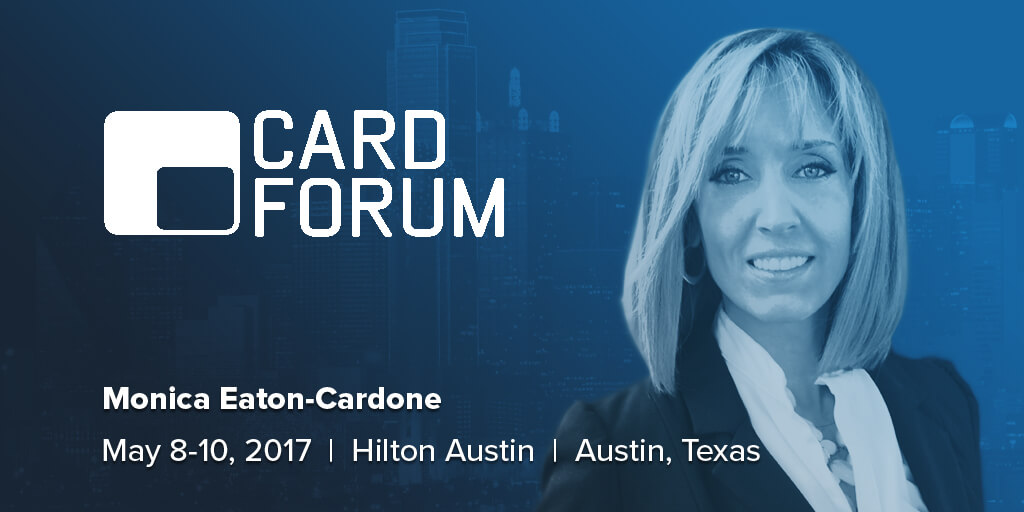 Monica Eaton-Cardone will appear as a special guest panelist during the Most Influential Women in Payments summit at Card Forum, May 8th in Austin, TX.
This is the only event specifically designed for payment and card executives from leading retailers, issuers, and networks. Cutting edge insight will be provided by industry leaders representing Visa, PayPal, Google, Bank of America, and Wells Fargo. Attendees will benefit from case-studies and networking opportunities that provide actionable strategies.
Monica will participate in an honoree panel discussion entitled Career Development, Mentorship and Building Work Environments that Promote Diversity and Women Leadership. The panel will feature the expertise of other leading women including Discover Financial Services' Senior VP of Global Commerce, Amy Parsons, and Head of Payments at US Bank, Racy Morgan. EY Principal Americas Lead, Margaret Weichert, will provide moderation for the discussion.
Don't miss Card Forum, May 8th-10th, 2017. Click here for more information about the schedule and times of this exciting event.
Card Forum 2017
May 8-10, 2017
Hilton Austin
Austin, TX
Career Development, Mentorship and Building Work Environments That Promote Diversity and Women Leadership
Monica Eaton-Cardone
10:50-11:50am
May 8, 2017