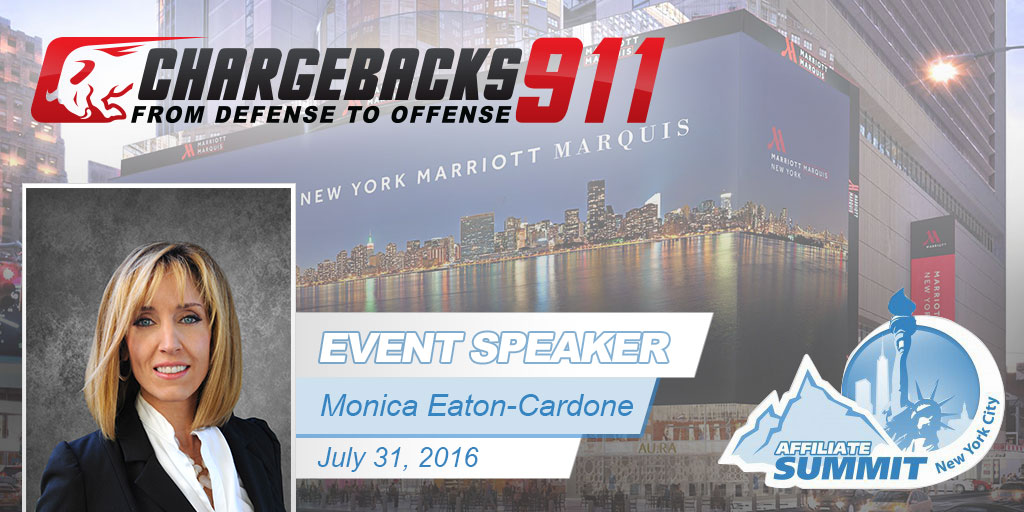 Merchants and affiliate marketers have voted, deciding which industry figures they want to hear speak at the Affiliate Summit East this July in New York. Now, the ballots are cast, and the people choose recognized industry expert Monica Eaton Cardone to discuss how to overcome one of the industry's greatest threats.
Affiliate Summit East is one of the country's biggest annual gatherings for the affiliate marketing industry. The event draws thousands of merchants, marketers and vendors each year for three action-packed days of networking, seminars, promos and demos to showcase new, cutting-edge ideas in affiliate marketing.
Monica's presentation, Affiliate Fraud Triggers You're Ignoring, but Shouldn't, focuses on one of the greatest, yet most underreported threats to the affiliate marketing and ecommerce communities—affiliate fraud. As COO of Chargebacks911™, Monica is perhaps the industry's foremost expert on affiliate fraud, and what merchants and marketers must do to make positive changes for the industry's sustainability.
The 18-minute presentation will be followed by a Q&A session, allowing attendees to pick Monica's brain for tips, tricks and pointers on how to reduce their affiliate fraud risk.
Monica, as well as the Chargebacks911™ team, will be at the conference all three days. Chargbebacks911™ representatives will be exhibiting at the Meet Market from noon until 6pm on July 31 as well, allowing merchants the opportunity to see what chargeback mitigation can do for their business.
We hope that you'll come meet Monica this July at the Affiliate Summit East, right in the heart of New York's iconic Times Square. If not, please check out any of Monica's many other upcoming speaking engagements around the world.
Affiliate Summit East
July 31-August 2, 2016
New York Marriot Marquis Hotel
New York, NY
Affiliate Fraud Triggers You're Ignoring, but Shouldn't
Monica Eaton-Cardone
July 31, 2016
4:00pm
Event Recap
Monica had a truly wonderful experience at Affiliate Summit East this year. "It was an honor to work alongside so many inspiring thought leaders, and to share some desperately-needed information about the dangers of affiliate fraud," Monica said.
The response to Monica's presentation was excellent. Now, more than ever, advertisers are interested in learning about new strategies for tackling affiliate fraud. Armed with Monica's insight, they can better equip themselves to identify threats early-on in order to prevent revenue loss and ensure their business's sustainability.
"This convention was a lot of fun—I'm definitely looking forward to Affiliate Summit West in Las Vegas this January!"